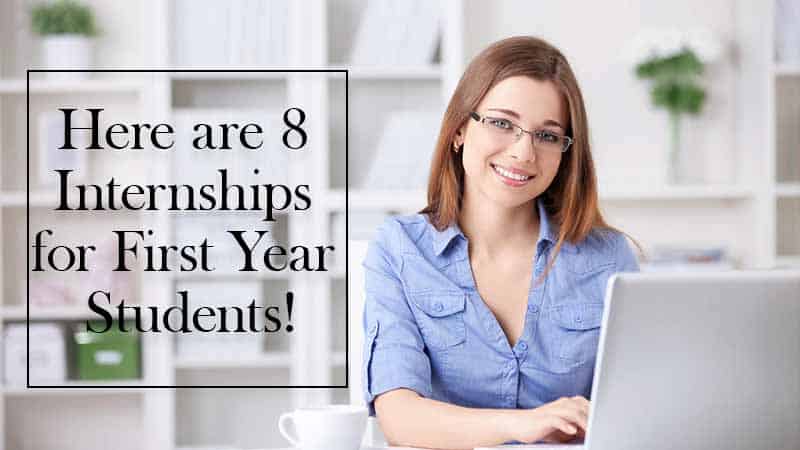 Nowadays college students from first year start to look for internships so that they can improve their skills, expand their resume and CV to get better internships. Also, if you think that there aren't internships available for first year college students as you are not eligible for internships because of less skills and experience then that's not the case.
Today we are going to share about many internship opportunities that are available starting from the first year college students. Many internships are available in technical as well as non-technical fields and you all can take advantage of all these available opportunities. It's not important that you would have to go to the office for the internship as many internships are available remotely, Work from home or virtual internships.

You can even intern during your semester break as a lot of internships are available for a period of 2-3 months! There are a lot of fields in which you can apply for internships and here is a list of some internships from our side:
Content writing
Are you someone who enjoys writing content or stories? If yes then you could apply for internships for content writing and explore your skills. You can be a blogger writing blogs or even the editor of your school magazine, or have a Facebook page. You can get more strong in the field of writing skills by taking up content writing internships.
It depends on the internship as it can be paid and unpaid depending on the requirements and your skills. You would learn a lot of skills, including Search Engine Optimization (SEO), infographics, designing and many other fields.So, apply for some cool content writing internships and after getting some experience you can even become a freelance writer and work on your preferred schedule.

Sales, Business & Marketing
Do you have interest in business and marketing and want to explore and learn about the same? Then if you are a good communicator and like meeting new people then a sales/marketing internship can be your chance to gain firsthand experience in the business world.
Also, if you enjoy this field then do watch the movie "RocketSingh-Salesman of the Year" . It's a great movie for this field. This will also help you in your future if you are planning to give CAT and go for MBA as it would improve your soft skills. Do not waste your time in the corporate world. Apply for amazing marketing internships
Social Media Marketing
Are you a special media person and addicted to Instagram or Twitter? Are you creative and always think of reel ideas? And do you like making memes or sending memes? Then taking up a social media internship would be the best for you. Through this internship you can get a chance to be creative every single day.
You will learn a lot with how to write engaging content, you would get an experience of working with creative minds from designing to creating videos, reels, and managing the same. You would also work with marketing teams and even promote campaigns. All in all it's a great opportunity to show off your skills and even get paid for all this.

Programming
Are you someone who is into the world of computers? Do you have a thing for programming? Then get, set and go and apply for a variety of streams of independent internships in Web development, data entry, or Mobile App development. While learning and mastering a key skill, you can also work in a real-world setting.
Graphic Designing
Designing is a field which has a lot of scope nowadays. And if you enjoy sketching, designing or doodling or if you know a little bit about Photoshop? Then a graphic design internship would be best for you to start your career in this field.
You can even take up a course of photoshop, learn the skills and then apply for internships then you can design different websites and logos. There are many opportunities for those who think they have good design skills. Graphic design is a popular career option.
You can Photoshop your way through the first years; apply for the latest designing internships. Get already started to stay ahead of the rest. Check out the latest internships available online .
Human Resources (HR)
Are you a people person? Are you someone who plans trips with your friends or give different ideas on how you can enjoy a party or you're someone who can host a party and your friends are able to count on you when it comes to planning? And are you calm enough that you can diffuse difficult situations fairly?
Then a Human Resource internship is something you can earn a living. You will learn how to conduct interviews, execute meetings and post jobs on a regular basis. You can also experience the opposite side of hiring by applying for internships in human resources .
Translation or Transcript
Are you someone who knows more than one language? And do you have Netflix shows from other parts of the globe on your watchlist? Can you speak two or more languages fluently or have you learnt any other languages?
If you like working in the field of different languages then a transcript or a translation internship will allow you to do so and allow you to learn more about it.
While in an internship your day could include translating documents or scripts into one language, voice overs and speaking to clients in the target language or even hearing video and putting subtitles for a YouTube video.
Teaching
Do you have the gift from god for becoming a friend that can help students understand the entire syllabus and pass exams? And do you also like helping students by making them understand lessons or solving solutions? If you ever have gotten a nickname for your ability to simplify difficult subjects and solve difficult problems of math.
Are you often complimented on how patient you are? Then all these are the signs you might be meant to be a teacher and the best way to find out it is to try an internship? By applying for internships where candidates are being hired for online tutors and most of such internships require knowledge at school level.
You can begin your internship right away. These teaching internships will help you teach and grow as a person and also watch your students grow.
So, these were all the eight basic internships for which you can easily get selected even if you are in your first year of college. There are a lot of more internships which are available. Now, let's see some tips on how to get a job as a intern in your first year
internships tips For First Year Student
Let's now discuss some tips that will help you land internships in your first year of college.
You might be excited about all the opportunities to apply for internships but your resume might not contain enough information as it plays a very important role while applying for a job or an internship. However, just because you don't have any experience doesn't mean you don't have skills and interests in that particular internship. Everyone knows that you will not be an expert on the required skills as you are applying for your very first internship. So, don't stress out that you don't have much experience and skills as you would automatically learn while doing your internship so apply for internships and build your career.
If you have your list of your relevant hobbies and have basic skills for a particular internship then you can mention that in your resume or email and apply for internships. 3. If you are applying for a position in content writing, and if you have written any blogs include it in your resume you can also mention if you have edited your school magazine or participated in any writing competitions in your school. After you've created your resume, you can ask a friend or family member to review it to ensure it is error-free.
You can always take help from the internet but try to add your creativity and try not to copy common answers from the internet. A unique answer which includes how you are a good fit for the company will help recruiters understand how you are different apart from all the other candidates. Remember to always edit your answers for each internship. Be very clear about why you want to work at the company and what you can do for the company.
There is nothing better than being able to use your skills in an internship that would help you a lot in the selection process. Demonstrate everything that you put your skills to use. Side projects be it from school or college is a great way to showcase your talents. For example if you're applying for a graphic design internship you could create a portfolio that includes logos, designing cards, banners, magazine covers or any other graphics.
If you have any network friends and family in Linkedin or any connections from LinkedIn ask them for a referral that you are seeking internships. You can also sign up on a lot of platforms for getting internship opportunities.
At first if you face not getting selected while applying for internships then don't let rejection turn you off! We too have experienced heartbreaking rejections as interns or as employees and can tell you that it is very normal. Just keep on going and apply for as many internships as possible to increase your chances to get hired.
Conclusion
You now have many options for applying for internships in different fields and a lot of tips as well that all things you have to keep in mind. We have that all this information in this article would be helpful for all of you.
Go and apply now for these internships that are only available for first-year students as well and be different from the rest! All internships mostly come with a cool certificate, stipend, and even PPO. Thank you!