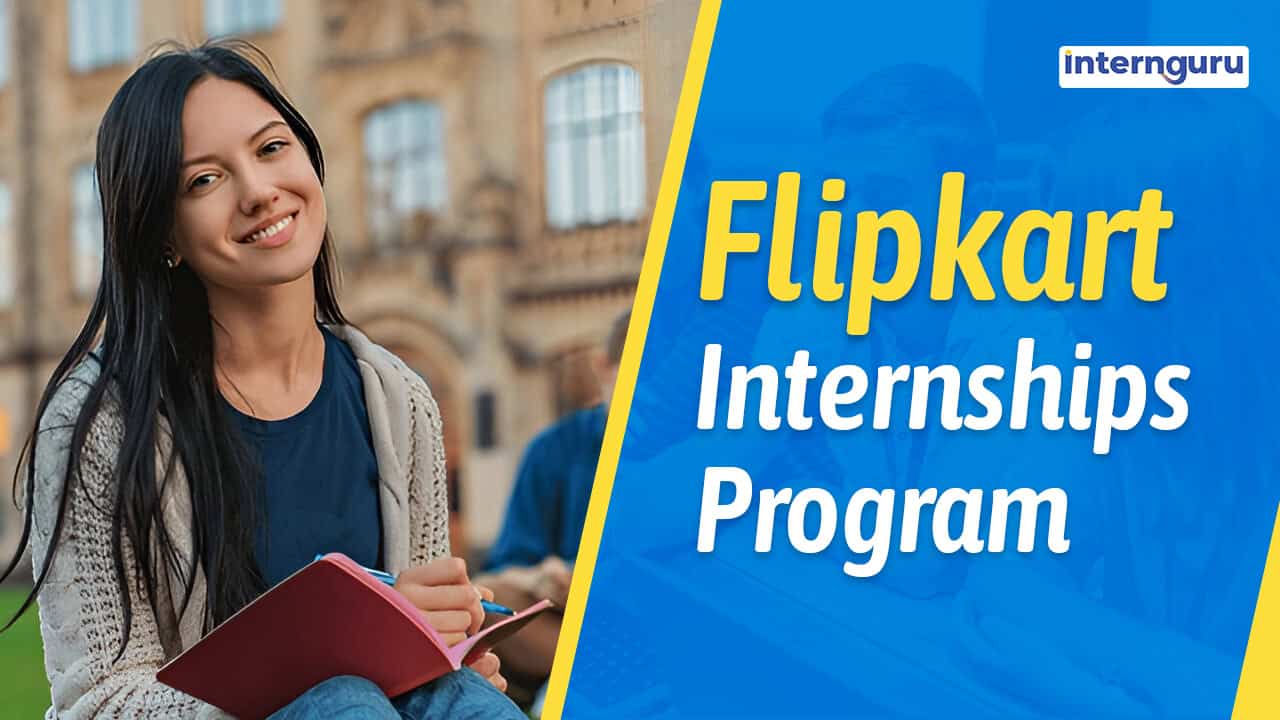 We all know how big is the company of Flipkart and to move forward it also requires more interns and employees to work for better upgradation.
But here's the question: what is the process? How to apply? Is the selection process easy? Don't worry as today we are here to give you all the details about "Flipkart's Internship".

We all have heard the tagline of Flipkart which goes like " Ab Har Wish Hogi Poori" for all the customers but it is also applicable to all the freshers and students who want to join in there and be a part of the Flipkart family.
We all know how much the war of e-commerce between Flipkart and Amazon and all the other online retailers has led both companies to hire more interns. And as of now if we see the Flipkart recruitment process to secure these highly sought-after internships is still difficult but not impossible.
What are the Internships Available at Flipkart?
Flipkart offers internships in software development, operation management, and product management. The internship is for a period of two-long-months at the branch in Bangalore. Now, the question of what is the stipend.

So for freshers, students, and interns, Flipkart provides a good stipend of the range of 25K to 35K it can be more or less according to your work position. There is a possibility to get a pre-placement offer after your Flipkart internship.
Who is Eligible for the Internship?
All the students who are pursuing a bachelor's or master's degree in the field of software development, computer science, and business management.
There is also a consideration for students from other backgrounds if they prove themselves capable of proving their worth during interviews.
How can you apply for the Internship 2023?
There are three ways through which you can apply for the internship:
First and the easy step is to mail the HR executive a well-structured resume including all the necessary information and a cover letter that includes your motive for applying for the internship.
The other way is to get a referral by anyone you know is working in Flipkart or you can even connect to the employees of Flipkart through LinkedIn or Facebook, and ask them to refer you for a job interview.
If you are in selected colleges where Flipkart visits for campus placements then it's a great way to start your career. The selected colleges include XLRI, IITs, IIMs etc.
To learn more about internships at Flipkart, you can visit the Flipkart careers webpage.


What is the Process after the Submission?
In the process of hiring candidates for the internship, Flipkart is very careful in choosing the best potential candidates. It also varies and depends on the internship profile and field of work. Mostly there are three rounds for the selection process:
Online Test
The first round is an online test where a coding test is conducted for 90 minutes for all the interns in the field of technology. In this test, you should have knowledge of the topics of data structure, queues, hashing, and binary trees. This will help in understanding your programming skills.
Don't worry if you are not from the technical field as for all the non-technical candidates as well the test has been designed which is of group discussion, and aptitude test. The test consists of the topics like:
How is social media helpful and what are the benefits of social media ?
Are we ready to become a cashless country?
How to solve the problems associated with e-commerce in Tier 2 and Tier 3 areas?
One-on-one Interview Process
For all the Technical interns here are some questions that Flipkart mostly asks during the technical round of interview
What is the fastest way to sort an almost sorted array of data?
Verify if the binary tree you are referring to is a binary search one. Discuss various approaches.
Find Pythagorean Triplets in the following array of integers.
What is a Hash Table? Explain the difference between a bucket and a hash function.
Calculate the closest palindrome number to the given number.
For all the non-technical interns the questions asked by Filpkart mostly are based on real-time and evaluation questions in the interview:
Are you positive that e-commerce will flourish in India?
What is the weight limit for an aircraft?
What are the key factors to consider when opening a grocery store?
Chicago has how many windows?
Offer some solutions to lower shipping costs for remote pin codes
Interview with the HR
After the online test, and one-on-one interview process you would have the HR round and here are some questions you could be asked:
In short description about yourself
Which are your strengths?
What is your motive for applying to this Flipkart internship?
How did you overcome the challenges in your previous jobs or internships?
How can you be the perfect fit for the company?
After the internship at Flipkart begins
The Flipkart interns who are also called 'Flinterns' after getting selected are all set to begin with their journey as you would meet at the airport and be placed in a hotel for two weeks or more until you can find your own accommodation.
All interns would feel at home during the first day of orientation. Interns take part in group activities which are held and are given a bag full of goodies with a Flipkart Tshirt.
Work Culture
At Flipkart the work culture is informal and the organization is non-hierarchical. Every Flintern would get his / her mentor who would guide you and show the ropes. This kinda work culture would help you to gain a broad understanding of the operation and to absorb the company's culture.
Flinterns have full ownership over their projects and can choose their own projects. Flipkart offers a stress-busting area as well which includes video games, bowling and air hockey as well as bunker rooms and a fully-stocked pantry.

Gyaan from all the Interns before
Try and learn all the information from the Flipkart's website and how everything operates. It would be useful for you to have a thorough understanding of eCommerce.
Your resume should be up-to-date with all the necessary information about you. Also, don't forget to add all your relevant experience, be it a job or an internship.
Try to improve and get better in the programming skills if you are applying for an internship in a technical field. You can visit the website for practicing.
The hiring committee of Flipkart during the interview can ask questions regarding all your other internship experiences and projects you have worked on.
Conclusion
So, here are all the important details you need to know if you are interested in applying for the Flipkart's internship. After getting to know about the details are you ready to apply for a Flipkart summer internship? If yes then don't think too much and send in your Flipkart application now! And let us know your experience. Sending all of you our best wishes. Thank you!