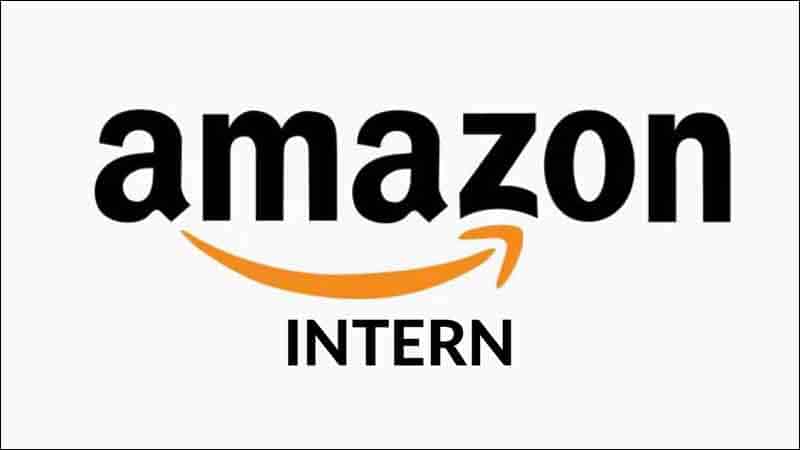 A lot of people or freshers want to do internships in a lot of different and big companies but they don't really know where they should start.
So today in this article we are going to specifically talk about "internships at Amazon" . It is also possible that you may have found this article while looking for Amazon India internships.

So, you are lucky as you have stopped at the right place as today we are going to share all the detailed information about Amazon's internships, how you can apply, interview round questions etc.
What is Amazon?
Amazon is one of the largest companies in the eCommerce sector which has been working for many years. Their interview process is quite known for the most difficult and exhausting rounds.
Students from all walks of college are highly regarded for their Amazon internships. But if you give your best and follow all the steps of the internship then it is not as difficult as said.

Internships available at Amazon 2023
Amazon offers internships for all undergraduate as well as engineering students, all the students from the field of Masters of Business Administration (MBA) and all Ph.D. candidates as well.
These programs typically last 12 weeks which is 84 days. There are many other disciplines as well that offer internships.
What is the Eligibility Criteria to Apply 2023?
For Engineers they can choose to work in the fields of software engineering, business analysis, customer service, or even in the retail field.
A Ph.D. candidate in the internship would usually work in the applied research team.
All the MBA interns mostly would work in the areas of retail operation, program management, and operations management.
How Should you apply 2023?
Confused on how you can apply so if you are interested in applying can use the following steps for applying:
You have to search on google and you can easily apply online via Amazon's university recruitment page.
You can try your luck by sending an email to the HR executive by asking for the email address from any of the known Amazon interns or employees. Send in your resume and a cover letter by adding all the necessary information to the HR.
It would be a great chance for you if someone in your known area recommended you for getting into the interview round. Getting a referral is the best way to get through the hiring process.
If you are in one of those selected colleges where Amazon visits for campus recruitment then that is also a great opportunity for you.
Related Topic: Paytm Internship

The Process after Applying 2023
All the students or freshers who are in undergrad are required to either send their resumes to the HR that they have spoken to or you can even upload your resume online.
After the starting process of students / freshers' resumes, they all are invited for an online screening test or to a telephonic interview round.
Here is the information about the screening test which usually consists of MCQs based on Computer Science fundamentals (OS and DS), as well as Networks questions. In total there are 20 questions.
There are two coding questions as well which goes like:
Given a linked listing, create a function that reverses every k node (where input is k).
Write a function to return true if an undirected chart is a Tree, and false otherwise.
You May also wants to Know TCS Internship
Telephonic Interview round
The interview is then followed by a telephone interview including both technical and general questions. Some of the few examples of technical questions are:
Do you know what virtual memory means?
Print the boundary traversal of a binary tree.
There are billions upon billions of URLs. Create a data structure that returns these URLs' IP addresses.
If the words are given in a string then display them in a reverse order.
Basic Questions asked by the HR
In short, tell me something about yourself.
What are your career goals? How will this internship help you achieve them?
What do you seek from this internship?
What were the problems that you encountered in your past projects? How did you overcome them?
Why should you be hired for this role?
Did you Know about Paytm Payment Bank Internship
In-person Interview
The selected candidates will be called for a one on one interview at Amazon India. Interviews are usually done in two parts, and there will be three interviewers who would evaluate your technical and behavioral skills.
For example these are some of the questions asked:
What data structure should you use to keep track of the stock market?
Create a function that checks whether a binary subtree is part of another binary tree.
Design a media player and what data structure you would use to store and play songs randomly without repeats?
Starting off the Internship
As soon as the internship begins, interns would be allotted with their assigned mentors. All the orientation programs, boot camp, etc. all these main activities would begin for the first week. Each intern would be assigned into a team.
Related: Internship at Niti Aayog
Amazon's intern projects are usually of high quality, fun and significant, all the interns are encouraged/tweaked to code important codes.
Amazon usually offers a stipend 30K/month and one week of accommodation the stipend can be changed according to the candidate's work. Additional perks are also given which includes Sodexo coupons and 24/7 cab service.
Guidance from the Previous Interns
Be comfortable and prepared to code on different media while in an interview(on paper or in a shared text editor wtc). Don't hesitate and ask questions, and be comfortable and calm while talking about code over the phone.
You can call your managers by their first names as it's a very open culture. You have the benefit of flexible work hours and the option to work remotely.
The work culture at Amazon is unique as all the interns are treated as employees. Weekly brainstorming sessions are also held so that it can encourage interns to think of new ideas and topics.
Related: Know More About Flipkart Internship
Placement Requirements
Internships at Amazon India in general have all of these three outcomes which includes:
Pre-Placement Interview (PPI). If your performance on the project is completed on time and you do good, you will be eligible to take a PPI. This will include 1 or 2 technical rounds.
Pre-Placement offer (PPO): If your HR and manager are impressed by your work culture, you might get an offer letter directly without having to interview which is called PPO.
Rejection – Your manager may reject you if they feel that you aren't qualified enough to meet Amazon standards. This is rare, but most interns get at least the chance to take a PPI.
Related: Internship at ISRO
Pro-tips for the Pro Internship
If you are applying for a software developer profile then you must be proficient in Java, as the majority of work at Amazon India is done using Java.
Taking a lot of coding quizzes would help you as the interviewers are looking to see if you are using your coding skills in real-world situations.
Try and find to practice different types of coding questions that were asked during past Amazon interviews.
Wear casuals for personal interviews round for a professional work culture.
Related: Microsoft Intenrship
Conclusion
So, this was all about the Amazon internship and we've tried to share all the important information regarding this internship.
We hope this article would help you in getting the internship but obviously your skills are the brownie points for the internship. Do let us know if you have any other questions regarding this internship in the comments. All the best!