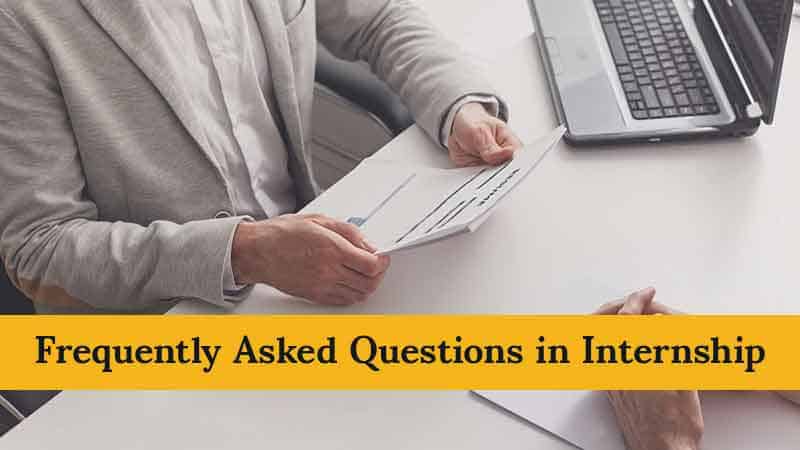 Interviews for internships are very normal and easy to pass for some but for some it's a battle for some students and people. It is true that you can find sitting on an Iron Throne more easy and relaxing than answering those nail-biting interview questions asked in the interview round.
But, trust me once you know what to do, and make a command then it's just as easy as flying an airplane. But obviously it is essential to prepare for the interview. Without preparation we can't even pass a test so this is an interview.

Here we are listing some most common interview questions asked and how you can answer them so you can sail through your interview happily without being stressed out:
Tell us something about yourself
This is the very first and one of the most common interview questions asked, but still a lot of people stumble upon it. Here's a quick tip: Don't start telling all that which is in your resume. It's something that an interviewer doesn't want. Interviewers want to get to know you and know your potential value to the company.
To answer this question in a simple way, use the simple "present, past and future technique". To establish a connection between the internship and your interests, start with a short career summary. This would include your education background, your interests, hobbies, and your skills. Next, you can go into the past by talking about your experiences, past projects or programs and show your certificates and achievements. You can either end the discussion with your future goals, if any, or just talk about your hobbies.

Here is a small example on how you can phrase your answer but again don't copy it try to add your creativity in your answer:
I attended XYZ school in Mumbai for my schooling, and am currently pursuing a B.Tech. in Civil Engineering at ABC University. After my college fest, I created a website and started freelance web designing. This internship is what I applied for because I want to work in a professional setting and want to get experience for my future.
How are you a Good Fit for this internship ?
This is definitely your first internship interview and you must have mixed feelings for the interview. Now the second most common question asked is "Yeah, but why should the company hire you? And how are you a good fit for the company?". If you're sweating already, fret not! Employers want to know two things: your skills (educational and technical) and your personality.
A reason you should hire your answer is one that relates your past knowledge, internship experience, technical and soft skills to the job you are applying for, as well as why you are applying for this particular position. You can do this by reading the job description to ensure you are a good fit.

Your educational background should be linked to the tasks you will have to perform during your internship. If you're applying for a cross-stream job (e.g., an electronics engineer applying to creative writing), then share your experiences and explain why they are relevant to your internship. Next, highlight your strengths and give examples.
Sample answer to the question "Why should you be hired for this job?"
As part of the college's editorial team, my creative writing skills have helped me to create effective marketing campaigns. I also know how to use numbers. This allows me to quickly analyze and adjust any marketing campaign's results. This internship would help me get started in digital marketing.
What are your strengths/weaknesses?
'Strengths, huh? I have a great taste in shoes. I can make eggs in ten different ways. I'm a master at typing. Weaknesses? I am perfect. I don't have any. This is what you are thinking. You don't want your chances of being hired to be destroyed.
This question is one of the most popular interview questions. Through it, the employer will want to know about your strengths and weaknesses. Answering honestly is the key to answering this interview question. Look through the job description to see which skills and traits are applicable to the internship position.
It's easy to identify your strengths, but it takes some preparation. Instead of saying that you get along well with others, you could say that you are a team player. Then, back this up with a case from your college project. Another approach you could follow while establishing the authenticity of your strengths is using Problem-Action-Result wherein you state an incident where you used this strength to overcome this problem and the consequences it had.
Highlighting your personal qualities and using examples can help you to show your strengths. However, it can be difficult to answer your weaknesses. Be positive. You can use your weaknesses as a learning opportunity or challenge, and show how you have overcome it. Socializing was a problem for me, but I joined many clubs at college, and I can now say that it was a learning experience or a challenge.
Example answer to the question "What are your strengths? What are your weaknesses?" –
Strong writing skills are my forte. Writing articles, I am able to remember the audience and make it easy to read. I'm always interested in learning new skills. I completed online training on web development, Java and business communication skills during my summer vacations. Although I have some issues with public speaking, I joined college's debate and drama clubs and am slowly overcoming my fears.
Why would you like to intern for our company? Or Why would you like this internship/job?
It is best to not mention that you are doing it because MHRD has required 3 internships or to meet your curriculum requirements. The employer will want to know what you know about the company, and how well you are conversant in the subject. If you are interviewing for a job at RBI, and you discuss the latest financial trends and recent decisions made by RBI, this could make a big difference.
While highlighting the qualities that attracted you to the company, answer why you would like to intern there. This can be done by listing what makes the company special, such as its products/services and the culture. Start by reading the company website, learning about the products/services, and their work culture.
When you want to learn more about the company's growth, it helps to look through media coverage and connect with employees via LinkedIn. You can mention the fact that you heard about the company through a friend and then add what you are interested in working there. Next, describe what you hope to learn about the job and the company. Finally, tell us how you can contribute to the company.
Sample answer to the question "Why would you like to work for our company?"
Internshala is a great internship opportunity for me to get started in my own business. I was intrigued by the unique business model here, and would love to learn more about setting up a business. Given my internship experience at ABC and XYZ, I believe I can be an asset in product-marketing.

What are your career goals
An employer may ask you this question because there are many things going on inside your head. I would be the CEO of your company, or in your place, etc. If you don't want to be president of the United States, don't speak it out loud. Employers use this question to get to know you better, to assess your goals and to ensure that you are motivated to learn. This question is used by a few employers to determine if you are interested in a permanent job.
Your future plans should be linked to the internship position you are applying for. Mention your future plans and the skills you would gain from this internship. When answering this question, don't forget about your long-term goals. Instead, dig deep and consider what you will do after the internship ends.
Would you return to college? Would you be interested in continuing with that organization? Would you look for work/internships in the exact same field? These questions will help you formulate a perfect answer to this question.
Example answer to the question "What are your career goals?" –
I plan to continue my bachelors in management. This would require strong interpersonal skills. The experience I will gain from this internship at the NGO where I do surveys and interact a lot with people, will help me to develop these skills. For more information on answering the question "What are your career goals ?" to land an internship interview, see .
Do you have questions?
Yes. Always answer yes. This is the final interview question that an employer asks to determine how excited you are about working for the company. If you don't ask a question, it will indicate that you haven't done enough research on the company or that the internship is not something you are interested in.
This is not a difficult question to answer. Do your research on the company before you go to the interview. Read the job description carefully. You can list the areas that interest you and ask them questions about the company's products/services, campaigns, your responsibilities, their expectations of you, the growth you can expect from the internship or the culture in which you work.
A few sample questions –
Could you please give me an example project where I could work?
What are the career paths for interns and employees in this department?
What are my daily responsibilities?
Is there any training that I can receive?
How does the company's work culture compare?
You have very creative job descriptions on your careers pages. Does that help you get better applications?

This list will help you to prepare your interview toolkit.
Don't give generic answers. Yes, the interviewer knows Google to be a major brand and a great place for work. But if this is the only reason why you want to work at Google, expect a no. Instead of saying "Yours is the largest brand and I get bragging right for my life if you start working at Google", say "I have always admired Google because it creates products that make our lives easier." Although it may seem like a minor update, the impact it has had on our lives is remarkable. I would love to be part of this company to feel the impact it has on billions of people.
Avoid asking obvious questions.Don't ask about the history of the company or its industry. You should read the job description carefully and not ask about your responsibilities. Asking about vacations, perks, and benefits will make it seem that you are more interested to learn how the company can benefit you than how you could be an asset.
Do not switch careers: When answering your career questions, make sure to align your answers with the field in which you are applying. You can't tell a marketing intern that you are a writer. This is a sign that you won't be around long.
Do not mention a major flaw. While you answer questions about your weaknesses, do not mention anything that could hinder your ability to perform well during the internship. You cannot, for example, apply to customer service and claim that your communication skills are poor. Don't try to disguise a strength as weakness. Saying that you work too hard or are a perfectionist is a big turnoff.
Avoid using empty platitudes. Saying that you are very innovative in ideas in interviews would be a waste of time. This can be stated in the following way: "I promoted my college fest through websites whose target audience are college-going students."
Do not include irrelevant information. Only mention the relevant achievements for the internship position. Do not try to compete with Santa by adding achievements from high school. If you mention skills like "I am good at badminton", your points will be deducted.
Do not try to make the interviewer laugh. Unfortunately, this is not The Kapil Sharma Show. You can't do this if Chandler isn't able to.
Many internship interviews are conducted via telephonic. Now that you have a basic understanding of the questions you should ask and how to answer them you can review these tips to help you succeed in a telephonic interview. Sometimes, interviewers can catch you out of your element by asking you a question that is not common in the industry. Learn how to answer these 8 strange interview questions.
Why would you like to get an internship with our company?
Neet to Answer.