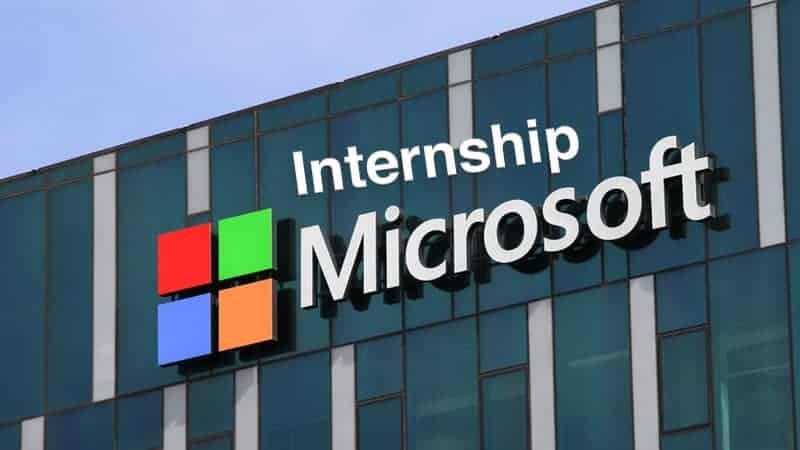 Internships at Microsoft Research is a dream place for a lot of students and freshers to work at. And Microsoft Research provides a zestful career option in the field of research with a huge network of world-class laboratories led by engineers, and scientists who are recognized worldwide.
So, today we're here to tell you about the top 3 internships which you can apply for at Microsoft Research and get a good experience for your future career.

India Lab Internship Program, Microsoft Research 2023
The first internship program is available in the India Lab Internship Program and this internship lasts for 12 weeks and the location for this internship is in Bangalore.
At Microsoft Research India the internships are either in the field of research or software development. Also, Microsoft interns are paid a competitive salary as a stipend.
Research interns work alongside Microsoft Researcher's full-time to develop research papers for publications. And at the same time development interns work with the software engineers and researchers to create a prototype app that implements generating ideas from research or for an individual software project.

Eligibility Criteria 2023
The candidates who are interns should be students in a relevant field, such as engineering or computer science.
Most interns are Ph.D. students only, but in some cases, master's or bachelor's students with a strong interest, skills, and knowledge in research are also accepted.
Related Topic: Internship at Tata Consultancy Services
Work Nature
At Microsoft Research India the environment for interns is a flexible, and independent work nature. Mentors are also assigned to each intern. After discussions with mentors and the interns, projects are selected to focus on a mutually beneficial project.
Interns can also co-author publications on the researchers they have contributed to. They will also be the primary author if they are the ones leading the research effort. Many former interns are now enrolled at top research universities in the world and hold research positions in academia as well as in industry.
Related: Paytm Payment Bank Internship
Summer Internships in Civil Engine, and Computer Science
The internship is at the IIT Guwahati and the department of Computer Science and Civil Engineering of IITG doesn't offer a stipend. That means this summer internship is unpaid and the duration of this internship is of two months and the location is Guwahati.
You can Also Read: Internship at ISRO

In some exceptional cases, the supervisor may offer financial assistance from his consulting/research projects according to the rules of the Institutes.
Eligibility Criteria and Application Process 2023
This internship program is only eligible to all those candidates who have completed the 3 rd year or are appearing for their B.E./B.Tech degree (in Civil Engineering or Computer Science).
For the application process, the candidates can contact the faculty members from the Dept. IIT Guwahati who further would give consent to the supervisor of Civil Engineering/ Computer Science.
This will help them to identify potential summer projects and help applicants make their applications.
All the candidates having consent from the supervisor can send the signed Application Form mentioning the name of the supervisor along with a letter of reference from the HOD/Supervisor of the parent University/Institution and that should be submitted before the last date of application.
Applications that are not in the prescribed format or the application is incomplete, without the name of the supervisor, the application or cover letter from the parent Institute is not signed, will be rejected.
Related: Internship at BHEL
Fellowship Program of Summer at IIT Madras
This summer fellowship internship program is held in Madras and the duration of the internship would be of 2 months and the stipend for the internship would be Rs.5000 per month for a maximum of 2 months.
Departments included:
Engineering Design, Electrical Engg, Mechanical Engg, Metallurgical & Materials Engg, Ocean Engg, Physics, Chemistry, Mathematics, Humanities & Social Sciences, Management Studies, Aerospace Engg, Applied Mechanics, Bio-Technology, Chemical Engg, Civil Engg, Computer Science & Engg.
The Eligibility Criteria
Candidates who are pursuing the Third Year of B.Tech./B.Sc. (Engg)/B.E./Integrated M.E./M.Tech. Program.
First Year of ME/M.Tech/M.Sc./M.A. MBA students who have an outstanding academic record in terms of high marks in university examinations are encouraged to apply.
This includes any awards or distinctions of the students. Papers presented at seminars and contests, Design scores in Mathematics Olympiad.
Related Topic: Internships at the Microsoft Research India
Conclusion
This was all about the top three internships at Microsoft Research, India. And if you are interested in working in this field then these internships are going to be a great start for you all. Thank you! Amazon Internship