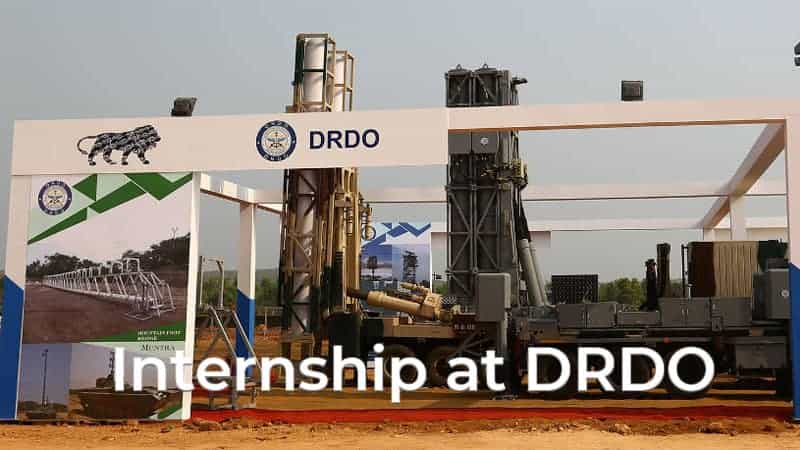 If you are a student from the field of research and development and if you want to start your career in the same field then doing an internship in this field is the best option. Defense Research Development Organization (DRDO) is an organization that offers internships in this field.
So, if you want to kick start your career then doing an internship in the field of research and development at DRDO would be a great opportunity. This organization offers internships to all graduate students and post-graduate students.

Competition is everywhere and so is in this organization as well as not many students get selected easily for an internship at DRDO. A reference can make your chance of getting selected easy. So let's talk more about the internship at DRDO.
DRDOs Research Areas 2023
The Defense Research Development Organization has numerous research centers and labs all over the country. Now, you must choose one of these research areas to become a DRDO intern.
Advanced Computing
Naval System
Combat
Vehicle
Electronics
Aeronautics
Simulation and Life Science
Armaments
It is the most important step to pick an area that suits your interests and you are best in with your skills and knowledge.

Related: Know More About Internship at Tata Consultancy Services
Now you have to curate your resume which would include your achievements, your skills, your work experiences, and the areas you're interested to work in. This would be done once you've made up your mind that you want to pursue a specific field.
The Centers of DRDO 2023
There are many DRDO labs and research centers across the country, as it was mentioned earlier. You must apply for internships at the facility or laboratory in which you are interested.
And here are a few of those:

HAL, or Hindustan Aeronautical Limited (Bangalore)
Defense Research Development Organization Lab in Hyderabad
Research and Development Establishment in Pune
Also, you can find many more labs in New Delhi and Agra as well.
Related: Internships at the Microsoft
How can you Apply for an Internship in DRDO 2023
Before you apply for a job or an internship you should always make sure you update your resume. Now you must be thinking about what all we should add to our resume?
These are some important and basic things you should include in your resume:
Academic Details
Your Objective for the Internship
Early work experience (if you have any)
Like a letter of intent, add a cover letter
You must send an email to the director if you don't want to attach a separate application letter.
Include a cover letter with your resume in it and send it to the director.
Always add your accomplishments/achievements.
Always keep in touch with your college professors and seniors for advice. Through connections, they may be able to help you reach the director of a specific DRDO laboratory in the country.
Every detail on your CV should be correct. It is much easier to get a job as an intern if you have a reference. Patience is your key so be patient as it may take up to three months for you to receive a letter of joining.
Related: Paytm Payment Bank Internship
Eligibility Criteria 2023
These are the eligibility criteria and you must meet them before you apply for an internship:
This is the most basic one as you must be an Indian citizen.
Your age must be between 19 years to 28 years.
You should have the distinction as the minimum score must be over 60% for all semesters.
You must appear for the 6th Students must have completed their last year of the course.
You must also have a good knowledge and skills of the area you are applying for an internship.
The time period of the Internship 2023
The duration of an internship is mostly either three months or six months but it also depends on the necessity of the laboratory. So, the duration of the internship can vary depending on the requirements and needs.
Also, you would also be awarded a certificate at the end of your internship. To receive an internship certificate, you must perform well.
Related: Internship at BHEL
Opportunities in the Future 2023
After completing the internship successfully, if your performance would be good then you may even be hired by DRDO and any other company in the following roles.
Scientist – This job is your ultimate dream job.
Research Fellow Man
Administration
Tech Staff
Project Manager
Trainer, and many more
Related: Internship at BHEL
Conclusion
So, this is everything you need to know about a DRDO internship and we've provided all the required information for the internship and how you can apply, and get selected for the same. Flipkart's Internship!
We hope this information would be helpful for you. In case of any queries, you can put them in the comments. Thank you!